Now we tackle the engine compartment structural changes for the "Big-Block" TCM engines.
891JH Update #4
Note: To decrease your download time we have made these pictures thumbnails. Just click on any picture to see a larger version of it. Use your browsers back button to return.
This time we get into the engine compartment, with the structure installation for the large Continental engines. Although we are installing an IO-470, all the structural work done will support a 520 or a 550 also.






Further disassembly of nose structure to beef-up for the different engine installation, all the way down to the keels





New parts are fit for the rear engine mount





New parts are fit for the front engine mount





The nose bug re-fit then a new right side skin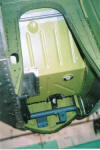 All parts are then riveted together





The inside of the nacelle and nose gear tunnel were then cleaned (again!!!), then sent out for prime and paint for durability. Good looks are important here also.